Here you will find answers to your questions about shopping our site, your order, shipping options and more. Simply select from the categories below for complete information.


844-827-6276 (toll free)
Int'l: 386-951-1744


M-F, 9AM to 8PM (ET)





Email:

sales@varnasol.com

Mailing Address:

VarNasol
Attn: Customer Service
2107 North Decatur Rd.
Suite 369
Decatur, GA 30033

Returns Shipping Address:

VarNasol
Attn: Customer Service
2107 North Decatur Rd.
Suite 369
Decatur, GA 30033

For Advertising Questions & Inquiries:

VarNasol
Available Monday – Friday 9:00AM EST – 5:00PM EST
Customer Service: 844-827-6276 (toll free)

sales@varnasol.com
Phone

Orders
Online: VarNasol Feel free to call Customer Service to place your order..
Phone: 844-827-6276 (toll free), Int'l; 386-951-4346 Monday through Friday 9 a.m. to 8 p.m. (EST)
VarNasol offers FREE Shipping in the US on all orders over $60.00 dollars.
The VarNasol Promise
• There Is A Solution.
• 100% satisfaction guaranteed or your money back.
• Orders shipped the same day if received by 4 p.m.
• Free shipping on all orders over $60.00..
•Great Customer Service experience.
Money Back 100% Satisfaction Guarantee
We encourage you to try our products at no risk; we know you are going to be impressed by these. If you are not completely and unconditionally satisfied with the products purchased from our Website, simply return them within 30 days for a full refund.
Returns
100% Satisfaction Guarantee
We want our customers to be at ease when placing orders. We stand behind everything we sell. If for any reason you are not completely satisfied with the performance of our products, we will refund your money with no questioned asked! simply contact sales@varnasol.com for a full refund within 30 days of purchase.
Please note that we can only process returns for products purchased directly from VarNasol. If you purchased VarNasol related products from a 3rd party retailer and are unhappy with your item, please return the item to retailer at which it was purchased. We do not accept returns which were purchased from 3rd party retailers.. We are unable to process returns or refunds after the 30 days purchase period and we cannot refund shipping charges. Allow 15 days for the refund to appear on your credit card statement. For identification purposes please include a copy of your invoice or packing slip with your returned products. Ship your returns to 915 Doyle Rd. Suite 303 Unit 329 Deltona, FL 32725 using a traceable service (UPS, FedEx or USPS Priority Mail).
This Guarantee is void if, at VarNasol's sole discretion, it believes that the purchaser is taking illegitimate advantage of or abusing the terms of this policy.
Track Order
Check the status of your orders by clicking on My Account at the top of VarNasol. You will be prompted to log in with your email address and password if you're not logged in. Click on Track Order in the order list for the order you'd like to track.
An order summary page will provide you with detailed information about your order. If your order has been shipped, a tracking number will be available on this page. To track your order, simply click on the tracking number to view the delivery status of your order.
Shipping Options
We process all orders received before 4pm on the same day they're received (excluding holidays and weekends). Transit time varies by geography, please see Shipping Times below for an estimate on when your order will arrive. We ship to all 50 US States, Puerto Rico and APO/FPO addresses and International. Please refer to the table below for shipping rates.
SHIPPING OPTIONS

SHIPPING CHARGE

FREE

Standard shipping on orders over $60.00! (4-6 business days)

FREE over $60.00

Two-day shipping: 2 business days (No P.O. boxes or weekend delivery)

$15

Overnight shipping (No P.O. boxes or weekend delivery)

$27
Shipping Times
This map is an estimated representation of shipping transit times for FREE Standard/Ground shipping. For updated tracking details on your order, access your account and select the view order link for the order you wish to track, then click on the order's tracking number and you will obtain real time tracking results. Standard Shipping Deliveries may take longer – up to 30 days for APO/FPO addresses.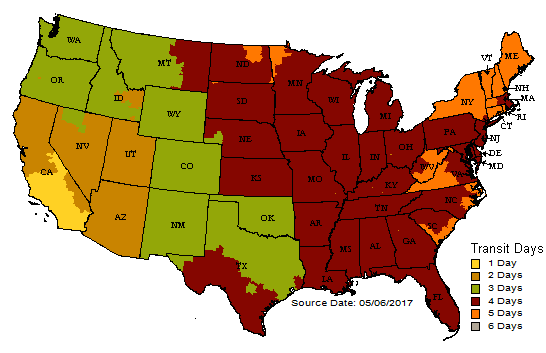 Where to Buy and Authorized Retailers
Online at VarNasol (24 hours a day, 7 days a week).
By Phone: 1-844-827-6276 Monday through Friday 9 a.m. to 5 p.m. (EST)
VarNasol offers FREE Shipping in the US on all orders over $60.00 dollars! Orders received before 4pm EST during weekdays are processed that same day (excludes holidays).
My Account
When you shop at VarNasol, a personalized and secure account is created for your convenience by using your email address and allowing you to select a password. You can track delivery of your orders or see previous orders within your account. Click here to visit My Account.
Auto Ship Program
Our Auto-Ship Program is the most economical and convenient way to insure you never run out of your favorite VarNasol related products. Once a month you will receive a new shipment of the product selected at a 15% discount over the regular price plus get FREE Shipping on all orders over $60.00 dollars. You may sign up or cancel at any time simply by using this Auto-Ship form or by contacting us at sales@varnasol.com or 1-844-827-6276. Please note that by selecting the Auto-Ship program you are authorizing VarNasol to charge your credit card for the auto-ship program and ship the products selected until you cancel this program.
Skincare Grooming Tips
If you want authoritative information and advice on men's skincare grooming or nutrition, visit our VarNasol Blog section. If you have any question on any of our products, how to use these or any skincare, nutritional, or grooming questions, you can always contact our expert customer service representatives via email or phone.
About Us
Click here to learn more about what makes VarNasol, our Mission Statement, What We Believe as an industry leader in men's skincare products, how we got started and now sell products sold all over the world.
Product Reviews
Reviews are a great way to share your opinions with other customers and help others get the information they need before buying a product.
How to submit a VarNasol product review:
• Find the product detail page for the product you wish to review.
• Click on the "Write a Review" link in the "Reviews" tab.
• A "Write a Review" window will appear. Fill out all the fields.
• After completing your review, click the "Submit" button.
How to write a great product review:
• Focus on the product characteristics and your experience with it.
• Say why you specifically liked or disliked a product.
• Don't make your review too short or too long; 20 to 100 words is usually a good length.
• Provide a review headline that summarizes your opinion.
VarNasol does not edit product reviews and welcomes and publishes all reviews submitted in good faith by actual users of VarNasol related products. We reserve the right to remove reviews that contain profanity; disparaging, derogative, off-topic, or inflammatory comments; misleading information; or references to other brands.

By submitting a review, you agree to the Terms of Use set forth in VarNasol.


Unsubscribe from Email
If you are a Registered Member and no longer wish to receive email from VarNasol, there are several ways to alert us:
Email Request - you may send an email requesting removal.

Phone Request - you may call 1-844-827-6276 and request that your name be removed from the email list.
Opt-Out And Managing Your Preferences
You may choose whether or not you would like to receive Email from us. You may change your preferences with respect to Email at any time clicking the "unsubscribe" link at the bottom of each Email you receive from us, or emailing us at sales@varnasol.com.

Security
Your order is secure!
Yes. Shopping at VarNasol is quite safe. VarNasol uses a Secure Socket Layer (SSL) Online Ordering System, so all information you submit is encrypted and may not be viewed by third-parties while in transit. You can be sure that your privacy is always protected.. If you prefer, you may also call 1-844-827-6276 to place your order.
Our Commitment:
VarNasol is committed to respecting the privacy rights of our customers and all visitors to our web site. We take this matter very seriously, and have instituted many policies and procedures to insure that none of your privacy rights, as stated herein, are ever violated. We have taken many measures to safeguard and protect your privacy, while providing you with a unique and rewarding online shopping experience.
If you have any questions regarding these Terms and Conditions, please contact us:
VarNasol
varnasol.com
2107 N. Decatur Rd.
Suite 369
Decatur, GA 30033
sales@varnasol.com
Sign Up For Exclusive Offers From VarNasol